You can use the combines feature to create drills with custom data for athletes. Custom data refers to information that isn't collected using the Smartspeed timing gates, such as an athlete's height, weight or wing span.
Once you set up your custom data using Smartspeed Online, the data can be entered manually in the Smartspeed app for each athlete, alongside the drills performed in the combine.
You can use the custom data form to collect numeric or text data about athletes. If you have any specific requirements for how the data should be entered in the app, you should use the instructions to tell people this. For example, if you want to collect athlete weight, you can say in the instructions that you want people to enter this value in kilograms or pounds, depending on what you need.
Custom data entries in Smartspeed Online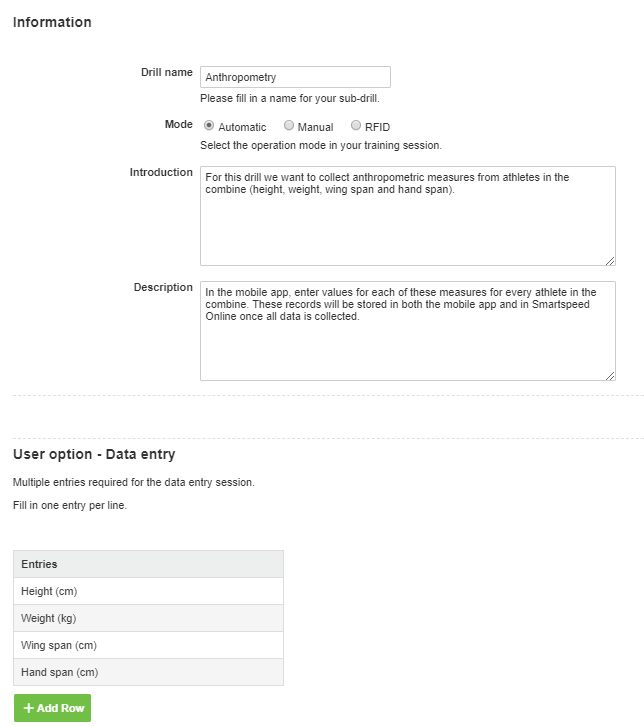 In this example, we are collecting some custom data as part of a combine. Anthropometric data is useful information to have about athletes who are taking part in a combine, but this isn't measured using the Smartspeed hardware, so we've added the information we're interested in as custom data entries. These variables can be filled out by the person who is running the combine.
The anthropometry data, along with the results from drills conducted using timing gates, can help coaches and analysts decide which athletes are most likely to perform well.
Steps to create custom data entries
On your computer, log in to Smartspeed Online.
From your home page, select the option to Add a new drill or team.
On the form selection screen, choose My data entries from the combines category of forms.

Give your custom data drill a name.
Choose the mode of testing that will be used to gather the data. There are three modes to choose from:

Automatic (default)
Manual
RFID

You can learn more about the difference between these modes in the article on using the Smartspeed application.

Write a brief introduction and description of the custom data entered in the session. This will explain to the person collecting the data how and why they're doing so.
In the table for entries, enter the variables you want to measure.

Ensure only one variable is entered per row.
You can add as many variables as you want.
Add more rows to the table using the Add Row button.
You can remove rows using the trash icon.

When you are finished, save and close the form.