Smartspeed Online is a free cloud hosted service available to all Smartspeed customers. It is powered by a simplified version of our industry-leading Smartabase human performance platform. You can register as many accounts as you like. For example, when you have multiple people sharing one mobile device and wish to separate your records and settings.
Registration
The only way to register for Smartspeed Online is via the mobile application home screen, as described here. Once you have registered you can then access the Smartspeed Online website.
Accessing Smartspeed Online
To access Smartspeed Online you can go to the Smartspeed Online website: https://smartspeed.fusionsport.com/online

You can access Smartspeed Online via the internet on any web capable device. You can use any of the following browsers:
Mozilla Firefox - highly recommended
Google Chrome - highly recommended
Safari - acceptable for Smartspeed Online use

Internet Explorer - not recommended! This browser will work but delivers a sub-standard user experience

Enter your email address and password that you registered with on the Smartspeed mobile application, and you will land on the home page.
Forgot your password?
If you forget your password, go to the Smartspeed Online website and complete the Forgot password process using the email address you registered with. The system will immediately send you a new password.
Creating a team list
To create a team list, you have two options:
Click on Teams in the sidebar and you will see a list of your current teams. You can click on any of these teams to edit them, or click New team to complete a new team record.
Click on Enter new team or drill and then select the Teams link to open a new record.
To complete the Teams record, fill out the following fields in the form, then select the Save and close button to finish it.
Name: this is the name of the team as it will appear on your device when testing. This is a required field.
Status: each time you login to the PT app online, it will synchronize with Smartspeed Online. All active teams will be available on your mobile device. If you do not want a team to be available on your mobile device, set it to be inactive (you can edit this anytime)
Given name and Family name in separate columns
RFID: if you are using Smartscan RFID, click in the cell and scan the wrist band for each athlete using your PC-RFID reader
Player status: all active athletes will appear on the mobile application. If you wish to have an athlete hidden temporarily from the list, you can set them to be inactive. Note you can also delete them by clicking the red icon next to their name
You do not need to delete any unused rows. You can also add as many extra rows as you like to the table by clicking Add Athlete. There is no limit to the size of a team. </p]>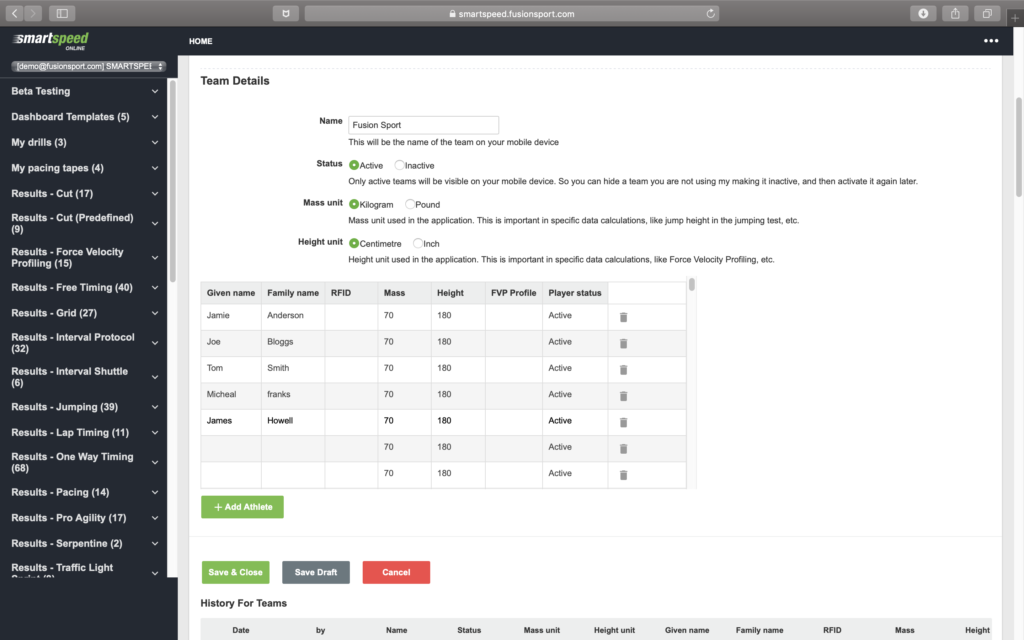 Pasting a list from Excel
If you already have a list in Excel, you can paste it into the form instead of re-typing everything. To do so, you will need to have your list in Excel in exactly the same format as the form table. Do not worry about the Active column as Smartspeed Online will default to Active.
If you already have your Smartscan RFID bands scanned into Excel, make sure you convert the RFID column to NUMBER FORMAT (with no decimal places) prior to copying. It should look exactly like the image below.
In the Smartspeed Online Team form, click in the first cell and then click Paste from excel.

Then paste the table into the text box. It should look like this.

Then press Insert values. If you make a mistake, click the Cancel button at the bottom of the form and start again.

Downloading results
If you are logged in to the Smartspeed mobile application and have an internet connection, your session results will be automatically uploaded to Smartspeed Online. To access and download your results, login to Smartspeed Online and click on the Results and team lists button on the home page.
Navigate the left-hand side bar and open the drill corresponding to the session you are searching for (e.g. "1 Gate Free Timing")
Once the session is opened please press Export in the top left-hand corner of the results page
Open the .csv file in Excel



Results format explained
Below is a screenshot of one-way timing results workflow. The results tables categorize your session data in the following manner.

The fields are:
Index: the number of the run in that session
Trial: the number of that run for each athlete in the session
Split data: these are the times from gate to gate during the drill. For example in a 0-10-40 sprint, the Splits will be from 0 to 10, and from 10 to 40
Total: the total time for the sprint
Cumulative time data: these are the total times to each gate from the start. For example in a 0-10-40 sprint, the cumulative times are from 0 to 10, and 0 to 40. Free Timing Drills have a different results format where the splits and cumulative times run down the page instead of across.
Creating preset drills
Smartspeed Online allows you to create pre-set drills which are then available in your Smartspeed mobile application. This saves you from having to configure your session settings each time you run a testing session.

Please refer to the first time use article for an explanation of the available settings.
If you leave any of these fields blank the mobile app will simply default to the default value, which you can then change. For example you may want to leave Team blank as you use this drill with many teams. Once you save and close a preset drill, it will be available in the Session setup screen in your mobile app.