You can use an HTML embed field to embed a YouTube video into an event form. To link a video into an HTML embed field, your Smartabase site will need to be configured specifically to enable this. If this hasn't been done already, your Fusion Sport consultant will be able to set this up for you on request.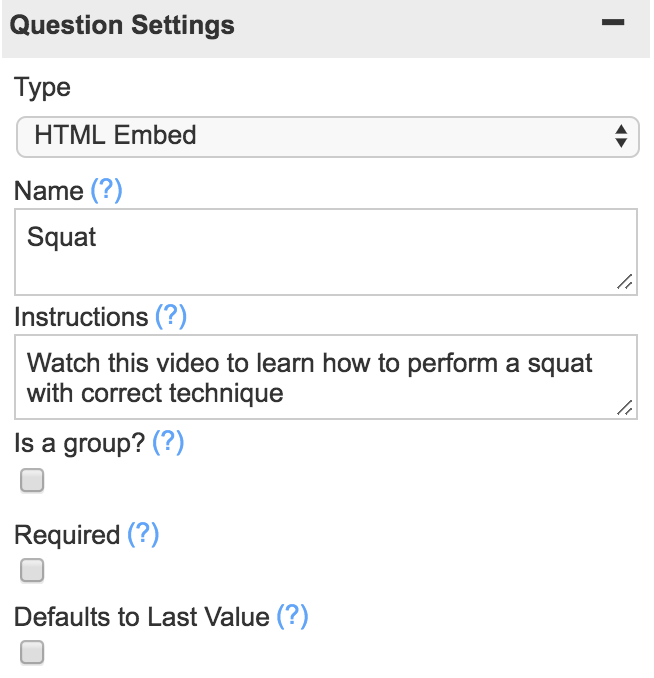 When you set this field up in an event form, an HTML placeholder must be added. Then an identifying string from the video's URL must be specified in order for the video to appear.
Embedded videos can be viewed either on a computer or on the Smartabase mobile application.
Steps to build a form that uses an HTML embed field
Log into the builder interface.
Select the Event Forms tool.
Select New Event Form from the Options drop-down menu.
Name and categorize your new event form.
Add an HMTL Embed field from the custom menu.
Go to the Advanced properties tab and copy the following text into the HTML Placeholder box:
<iframe width="560″ height="315″ src="https://www.youtube.com/embed/$EMBED$" frameborder="0″ allowfullscreen></iframe>
Set Default Show In Tables to False.
Go to the YouTube video you wish to embed and select the Share button.
Copy the ID string for the video. Note this is not the full URL (e.g. https://youtu.be/BHrrDYS6pyY). You only need the "BHrrDYS6pyY" part.
Paste the ID string into the field and click Update.
The video will load directly in the event form.
To change the video, click Reset then follow the instructions from step 3 again.
Save the event form.
Adding a video to a form using an HTML embed field
In this example, we're adding a YouTube video to an HTML embed field from the main interface. The event form contains the HTML embed field, into which we can insert the ID string for our selected video.

When we click update, we'll see the video load in the event form. The field can also be cleared by clicking the reset button, allowing you to add a different video.