This article contains all the information you need to use your Smartabase account online, including:
User accounts
Everyone who uses Smartabase has an account, whether they're an athlete, student, patient, soldier or staff member. Account information usually consists of your identifying information and contact information.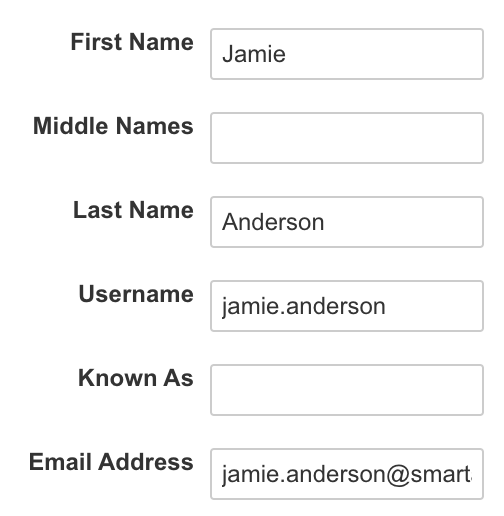 You can usually see a link to your account in the corner of the Smartabase web application. Your profile (unlike account data, profiles are customized for each site using profile forms) is accessible via the profile editing tools. Besides your identifying and contact information, there are some other important settings that you can adjust from your account:
Change your default language
Smartabase supports some frequently spoken languages, in addition to English. These include German, Spanish, Dutch, French, Portuguese, Arabic, Russian, Italian, Japanese and Mandarin to name a few. Most sites default to the language of the organization's home country, but people who speak one of Smartabase's supported languages can update their account to choose their preferred language.
Updating the language within your account settings is very straightforward; however, please keep in mind that Smartabase will only translate text that is part of the system itself. If event or profile forms have been created in English and a person has set their language to Spanish, then your organization would need to provide a translation for the terminology used in the forms.
Set favorite events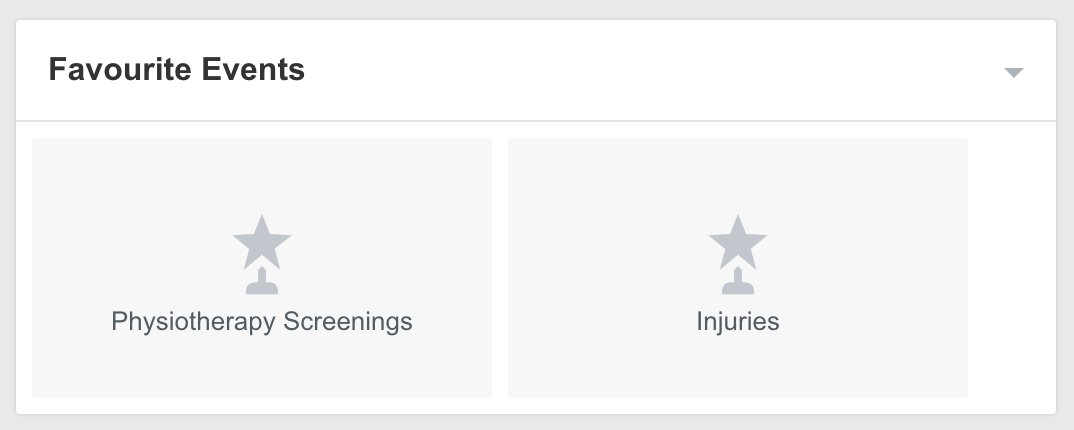 The favorite events option (if enabled for your role) means you can choose any number of event forms as favorites. When a form is selected here, it gets promoted on your home page in a few different ways to make it easier for you to access.
If you're viewing Smartabase using the web application, favorite events will show up as items on your home page. You can select each favorite form then choose to enter a new record or go to the performance history for that form.
Favorite events also appear more prominently in the sidebars than other event forms. Keep in mind that the sidebars show your favorite events, which may not be the same as the favorite events of the person you're looking at in Smartabase if you're a coach.
When you're using the Smartabase mobile application or the Smartabase Athlete app, favorite events are also promoted on your home screen for greater visibility. You can have an unlimited number of favorite events. A Smartabase administrator may also set favorite events for you.
Set your multi-factor authentication preference
If multi-factor authentication is enabled for your Smartabase site (or for your role), you're required to authenticate certain actions (like logging in or updating your account) by providing a code. You can choose to receive codes via email, text message or you can use an authentication app. Depending on the settings applied to your role and your Smartabase site, you may be limited to specific channels.

You can change your preference to a different communication method from your account page. In the example above, all three communication methods are permitted and the person has selected email as their preferred communication method.
Review terms of use
If any terms of Smartabase use have been set up by your organization, you can review them from your user account by selecting the document title from the list shown on the user account page.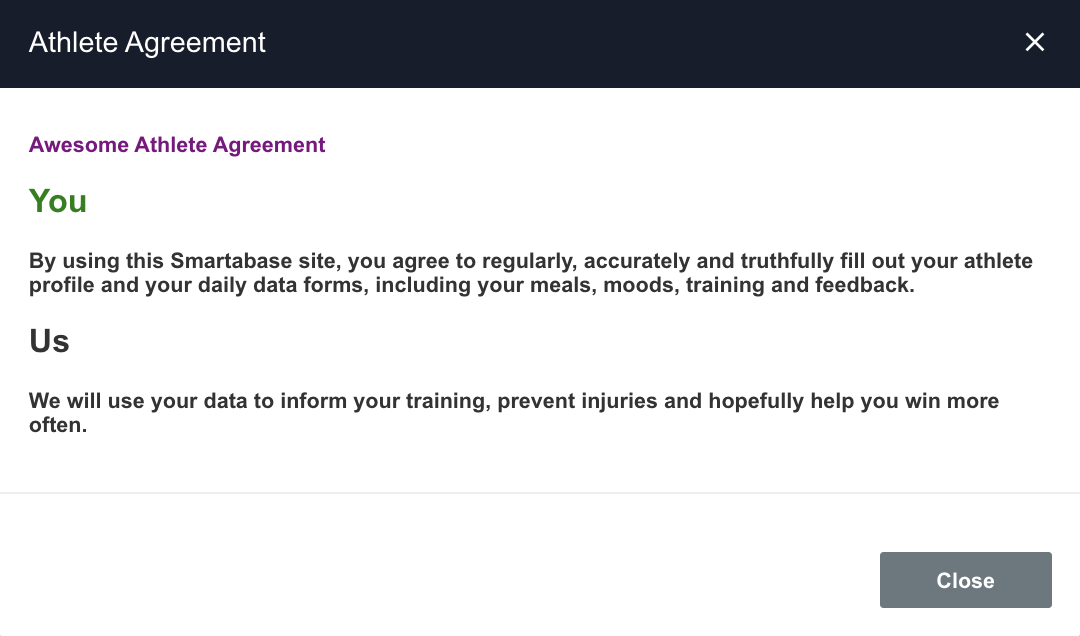 You are also able to withdraw your consent to any terms you've previously agreed to. If you choose to withdraw consent to you organization's terms of use for Smartabase, you'll be logged out of Smartabase once you save the updates to your user account. Since you are no longer agreeing to your organization's terms, you won't be able to use your Smartabase account.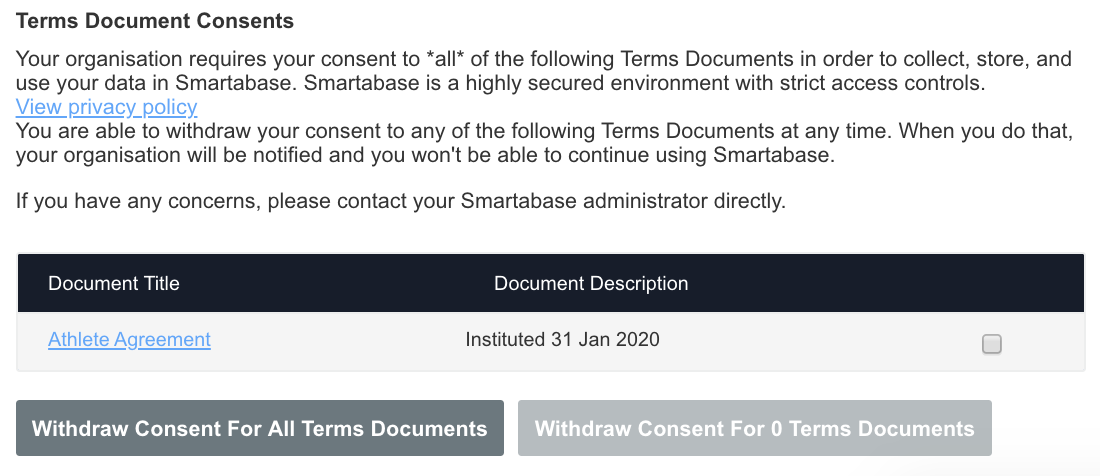 If you later change your mind about whether you agree with your organization's terms of use, you'll be able to consent to them as part of the login process.
Page layouts
Page layouts are customizations developed by a Smartabase administrator and applied to groups of people or roles. This means that you may see one page layout when in a particular group environment but see another when using a different group. If a page layout is not set for a subgroup, the parent group's page layout will apply to it.
A page layout may also be set up for a role so that people who have had that role applied to them will see the page layout for the role. For example, if an administrator has created a page layout that is applied to a coaching role, then only coaches will view the Smartabase site with that page layout. However, page layouts for groups take precedence over page layouts for roles, which means that when a person with a role that has a page layout applied enters a group environment for which there is also a page layout, the page layout will update to that of the group's.
This example shows a site that has no page layout. This is the default setting for Smartabase sites if a person's role has all available system permissions.

This example is the same site but with a page layout applied. The page layout determines the tools, tabs, small links (in the top right-hand corner) and how these are organized.
You can see that this example has a different header image, more colors and other formatting changes made, which are being specified using a CSS file. This is a very basic page layout – there are many Smartabase sites with more extensive customizations.
Groups
Grouping is a defining feature of Smartabase and allows for people to be classed together for data entry, viewing data, reporting and planning purposes. People can be grouped, for example, by sporting discipline, class, year, age, gender, or team. The names, members and properties of the groups that are used on a Smartabase site are determined by a Smartabase administrator or, to a limited extent, a team administrator (with the exception of personal groups) according to organizational requirements.
The group environment that you are currently part of determines how you can use Smartabase. This is because you can only view or edit data relating to yourself (if you are a member of the current group) or members of the current group (if you are a professional user), although it is possible to be both a member and have professional user access to the same group. You cannot view or edit information about anything outside of the group environment you are currently operating within. To do so, you must navigate to a different group.
If you are a professional user, you will have access to groups of athletes without necessarily being a member of these groups. This means that you can edit and view information about people within that group. It is also possible to enter data for a group of people at the same time. For example, if all people in a group need to have the same data about them updated, you can do this in group data entry mode. Any subgroups will also be accessible if you have access to their parent group.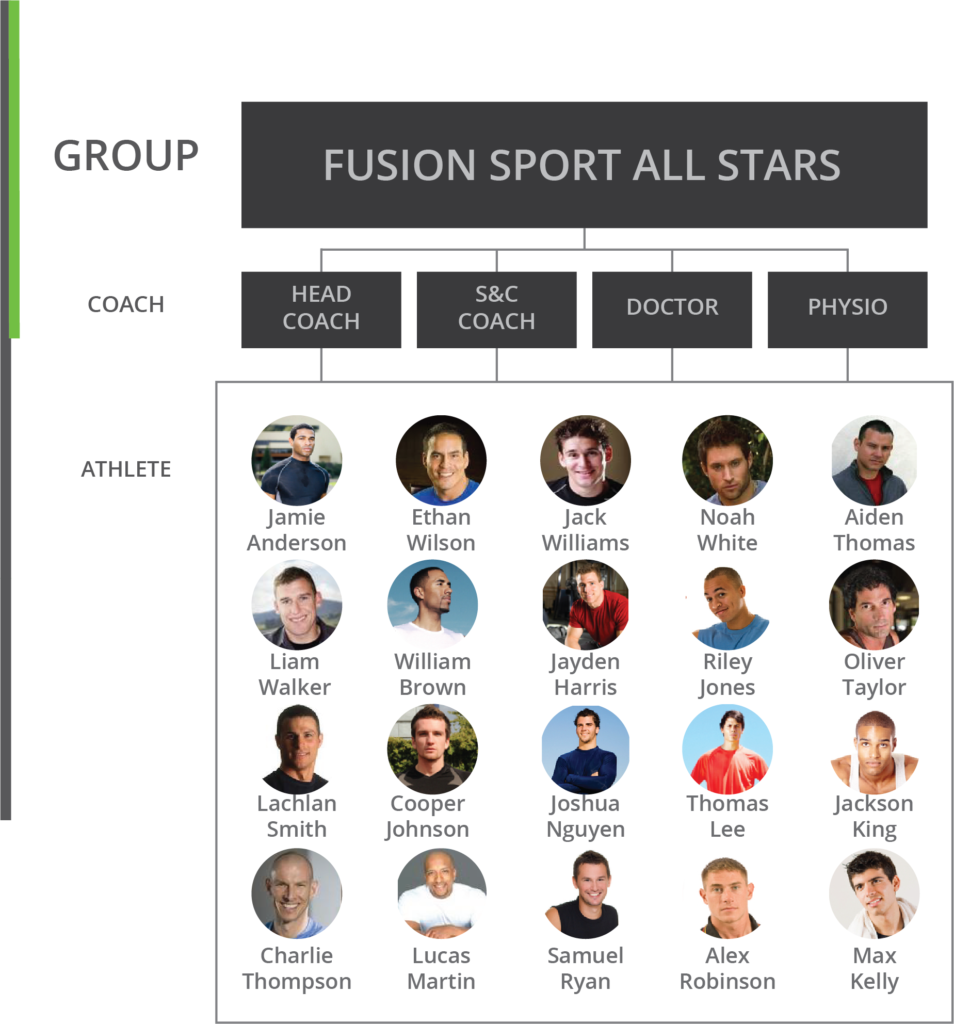 Grouping is generally organized in the same way as an organization's structure. This can be hierarchical or flat. A hierarchical organization is structured like a pyramid, with people having access to more groups when they are higher up the pyramid. The effect of this is that every person, except one, is subordinate to at least one other. The largest groups of people are located at the base of the pyramid. The advantage of this type of organization is that it is clear who is responsible for who; disadvantages include difficulty communicating across groups.
Flat grouping structures do not have as many levels as hierarchical structures. This means that groups are split less often and many people are subordinate to a few people. This type of organization improves communication between groups and allows for simpler decision making, as more responsibility is held by fewer people. Disadvantages include lack of specificity and impediments to growth.
Generally speaking, Smartabase sites are suited to hierarchical grouping structures; however, organizational requirements often mean that these grouping structures can become complex. Understanding the grouping structure used by your organization can improve your user experience with Smartabase and allow you to communicate this knowledge to other people.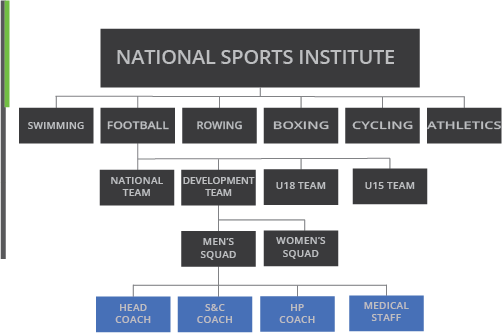 This is an example of a possible grouping structure in Smartabase. In this simplified example, you can see that the grouping structure generally follows the organizational structure. Note that people can be part of more than one group – they can belong to a group and any of its subgroups or they can belong to a sister group. In this example, the head coach, strength and conditioning coach, high performance coach and medical staff are coaches (professional users) of the men's squad in the development team. They could also be coaches of the women's squad (not shown). Anyone who is a coach at a higher level than the men's squad will have access to any subgroups.
Changing groups
There are several ways to change the group that you are viewing, depending on the layout of your homepage:
Select the name of the current group environment you are operating within at the right-hand side of the navigation bar at the top of the page.
Locate and click the Groups button on your home page.
Locate and click the Groups tab at the top of your home page.
Use one of these methods to open the groups tool, then select the name of the group you want to use and click the Preview or Load button.
Personal groups
As a professional user, you are likely to have access to groups of people which are structured and populated by a Smartabase administrator (or a team administrator). If you are not an administrator, you do not have any ability to create groups, because this grouping applies across the entire site and to all people and allowing many people to do this would quickly create an unnecessarily complex group structure. However, with the personal groups tool a professional user can construct their own groups. Personal groups only act as groups for your personal purposes, such as data entry, reporting, messaging and planning, and are not visible to anyone except yourself.
Personal groups are most suitable for dynamic situations where a group's members change often. Temporary groupings are not particularly useful from an administrative perspective but can be appropriate for those with coach access. For example, a coach may build a personal group for athletes he is working with on a short-term basis. The coach would want to enter group data and run saved reports about the group despite its changing members, so he needs to be able to manage the members without deleting the group and creating a new one every time an athlete joins or leaves his care. The personal groups tool allows the coach to do this.
A professional user's personal groups are only accessible by that person. If the creator of a personal group wants to send a report, for example, about the group, then the creator would have to have permission to send the report and the recipient would have to (1) have permission to access the people in the group and (2) have permission to view the event form that the report relates to. The recipient could then choose to create their own personal group made up of the people in the report.
Create a personal group
There are several ways to create a personal group, depending on your system permissions and page layout, including:
Personal groups link on homepage.
Through the reports tool.
Through the internal messaging tool.
Workflow 1: Personal groups link
If a Smartabase administrator has enabled this functionality, in the top right-hand corner of the page there will be a link called Personal groups.
Click the Personal groups link.
At the top of the page click on Create new personal group.
Enter a name for this personal group, remembering that personal groups are only visible to yourself.
Use the search tool or the tick boxes to pick which members of the group you are accessing will become part of this personal group.
Click the Save button, which will return to you the personal groups tool page.
This personal group can now be used when entering data, reporting, messaging or planning in this group environment.
Workflow 2: Through reports tool
Navigate to the reports tool via its home page button or its tab, if visible.
In the Select data to view box, click the link displaying the number of users selected (this defaults to entire current group).
Use the search tool or the tick boxes to pick which members of the group you are accessing will become part of this personal group.
Select Save selection as a new group?
Enter a name for this personal group, remembering that personal groups are only visible to yourself.
Click the button showing the number of users selected, which will return to you the reports tool page with your new personal group selected.
This personal group can now be used when entering data, reporting, messaging or planning in this group environment.
Workflow 3: Through the Internal Messaging tool
Navigate to your Smartabase Inbox.
Select the option to create a New message.
Click the link displaying the number of users selected to Send message to.
Use the search tool or the tick boxes to pick which members of the group you are messaging will become part of this personal group.
Select Save selection as a new group?
Enter a name for this personal group, remembering that personal groups are only visible to yourself.
Click the button showing the number of users selected, which will return to you the new message page with your new personal group selected.
This personal group can now be used when entering data, reporting, messaging or planning in this group environment.
Sidebars
When you are using Smartabase with a computer (that is, not when using the Smartabase mobile application or Smartabase Athlete app) you will generally be able to see a sidebar on each side of the screen. They are visible in areas of the site where it is possible to change which person is selected. If an athlete is logged in, they will only be able to select themselves using the sidebar. A professional user will be able to use the left-hand sidebar to select an athlete from the people contained in the group environment they are operating within at that time. This is the normal way in which the sidebar is visible, with the person having the ability to collapse either sidebar; however, a Smartabase administrator may choose to turn off visibility for the sidebars in the site entirely. This is sometimes done when other navigation options have been implemented.
The left-hand sidebar is intended to facilitate navigation, both for athletes and professional users. Being able to select a person in the sidebar means that you can navigate to relevant event forms, view a history of entries for an event form and see any status indicators that apply to the person.
The right-hand sidebar contains a profile section with a profile image, critical information about the person, options to message a person, view their performance history or go to their profile page. It is also referred to as the athlete sidebar.
Collapsing the sidebar
At the top of both the left and right-hand sidebars, you will see an icon that allows you to collapse or expand the sidebars. This feature is available on sidebars across the main application, as well as the builder and administrator interfaces. While collapsed, you're able to hover your mouse at the edge of your screen to view the sidebar. The state of the sidebar will be retained across all tools that you access in Smartabase, including the home page, reports, data entry, profile entry and resources.
When you show or hide the sidebar, your browser will remember the state from when you last logged in, and save it for your next session. For the left-hand sidebar, this also applies to the builder and administrator interfaces.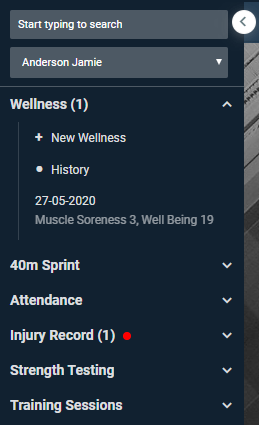 If we are logged in as an athlete, it is possible to see the event forms that can be entered (in this case, for Jamie Anderson) and the status indicator (currently red), in the left-hand sidebar.
If we look at a coach's home page, in the left-hand sidebar the coach has available to them a list of athletes who are members of the group the coach is operating within.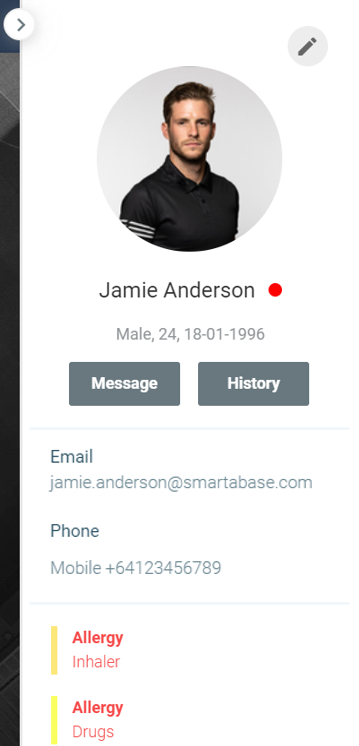 The coach is able to choose a single player from the left-hand sidebar in order to enter data, view the performance history or view the calendar for that athlete. After choosing a player, the right-hand sidebar will appear so the coach can see the player's critical information and options to message the player, view their performance history or view their profile page.
Status Indicators
Status indicators are colored highlights used to show a person's status. The information used to indicate status will differ from one Smartabase system to another. If you work within a sports team, status might be based on availability to play or train. In this case, the different statuses might be Unavailable, Available for modified training and Available to play. The coloring used for each status is determined by a performance standard.
Status indicators are visible in the sidebars and when you're using the athlete selection screen for data entry.
Depending on how your organization needs to use status indicators, preference can be given to the most recent status or the worst status. For example, if status is based on current injuries, possible statuses might be Unavailable, Modified and Available. When an athlete has more than one injury, it can be useful to see the status of the worst injury rather than the most recent injury.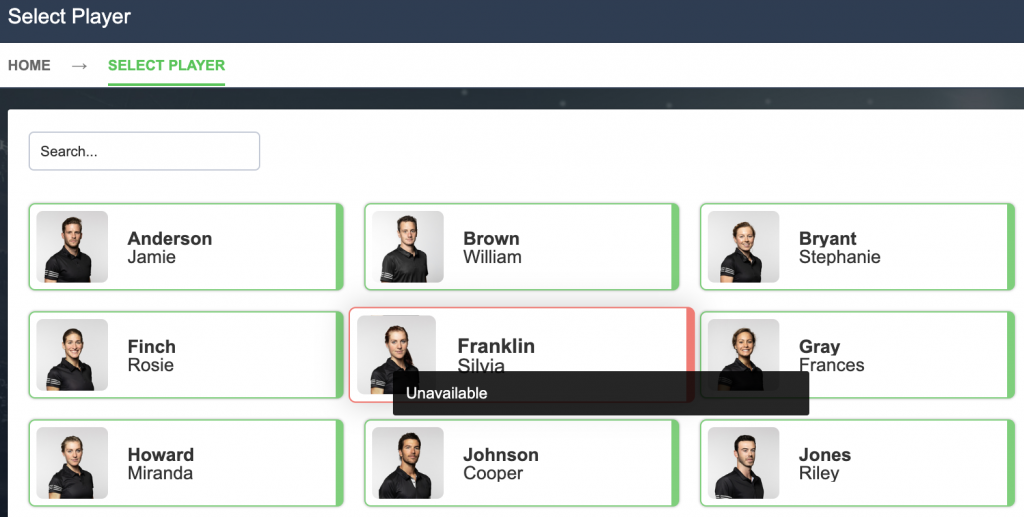 In this screenshot, we've chosen to enter data for a single player. On the athlete selection screen, we can see the status of all players in the group. To see which information a status color represents, we can hover over a specific player to see their status.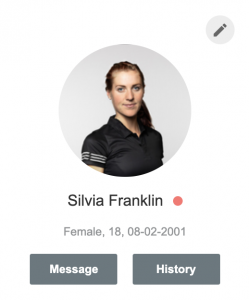 When the athlete sidebar is visible, the status indicator appears as a colored dot next to the athlete's account picture.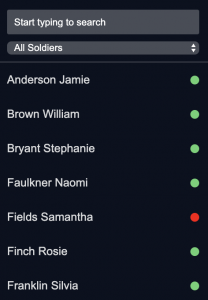 If you're using the Smartabase web application and your permissions include the ability to use the main sidebar, you'll see status indicators there, as in our screenshots here. This example shows how each athlete has a status indicator when they appear in the sidebar list (above). When a specific athlete is selected, it's possible to trace the status indicator through the event form categories to the specific record where the athlete's state is recorded (below).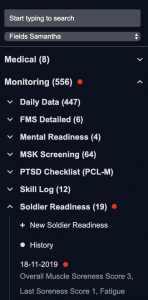 Critical information
We pointed out in the sidebar section how Jamie Anderson's allergy information was highlighted in the right-hand sidebar below the athlete's profile details. This is a setting implemented by the site's builder that makes sure certain critical information is highlighted everywhere the athlete is seen on Smartabase. This setting is best used for one or two critically important event form fields and is typically used for medical information, such as allergies.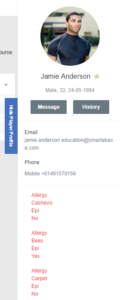 This example shows Jamie Anderson's critical information more completely. There are two fields in the allergy event form that appear here as critical information. These are the fields in the form asking for the allergen's name and whether an EpiPen is carried.
Team Administrators
If you're a team administrator (sometimes called a coach or group administrator), you have access to a selection of Smartabase's administration tools. This means you're able to help manage the people you're responsible for. As a team administrator, you have visibility of and access to people in groups specified by your Smartabase administrator. You can't use all the same tools that a site administrator can but you're able to:
If you need to be able to assign roles to people in your groups, a Smartabase administrator must give you team administrator permission for each role.
Exporting and Printing Data
There are many locations within Smartabase where specific exporting and printing functions can be made available to you by a Smartabase administrator. Besides reports which are designed to be exported and/or printed, event forms, performance history, user profiles, calendars and most other Smartabase tools will have a PDF or Excel button that, when clicked, will give you the ability to download what you are looking at as that file type. As mentioned before, these options will only be available to you if an administrator has assigned you permission to perform these actions.

A tool specifically for printing Smartabase pages is available; however, it has limited options for formatting and is rarely used.